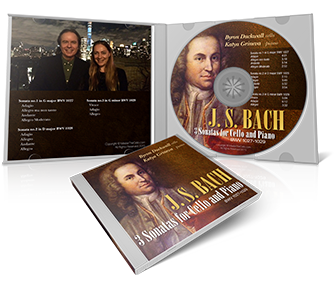 The sonatas for cello and piano represent a development from the Corellian sonata style of Bach's early years to the Italian Concerto style of later years and demonstrate the influence of the great Italian genius Antonio Vivaldi. The exuberance and complexity of this music seems to transcend a mere duo, not only because of sheer vitality but also its meditative beauty, which is no more evident than in the intoxicating adagios.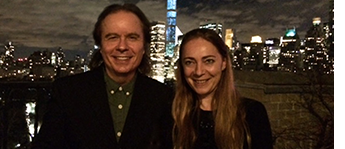 Artists Byron Duckwall (cello) and Katya Grineva (piano) have created a vivacious yet lyrical recording of these great masterworks. They've achieved a delicate balance between passion and elegance which makes these works come to life.
Ms. Grineva performed
on a Steinway B piano
Mr. Duckwall performed
on a Thomas Dodd cello.
TRACK LISTS

Sonata No.1 in G Major
BWV 1027
Adagio
Allegro ma non tanto
Andante
Allegro Moderato

Sonata No.2 in D Major
BWV 1028
Adagio
Allegro
Andante
Allegro

Sonata No.3 in G Minor
BWV 1029
Vivace
Adagio
Allegro